MASTER TRAINING IN THE MANAGEMENT OF SEVERE ATROPHIC MAXILLA WITH
ZYGOMATIC IMPLANTS
LIVE SURGERIES PERFORMED BY PARTICIPANTS
---
---
MASTER TRAINING IN THE MANAGEMENT OF SEVERE ATROPHIC MAXILLA WITH
ZYGOMATIC IMPLANTS
LIVE SURGERIES PERFORMED BY PARTICIPANTS
Zygomatic courses
Zygomatic training
---
---
Be part of the exclusive group of people who have learned to perform cases of
zygomatic implants

in a personalized training

- maximum 3 participants per course
- each participant performs at least one case of quad zygoma.
- total, 3 to 4 cases per participant
Zygomatic courses - Zygomatic training
Conoce algunos de los asistentes a nuestro curso
aquí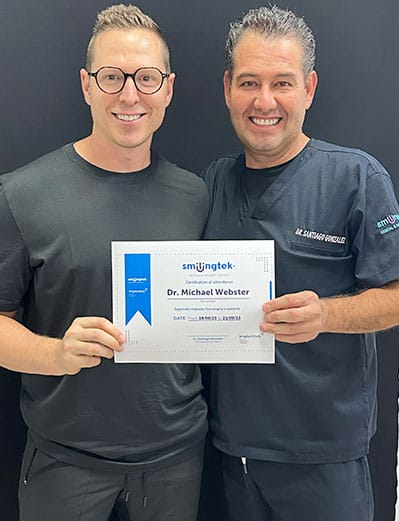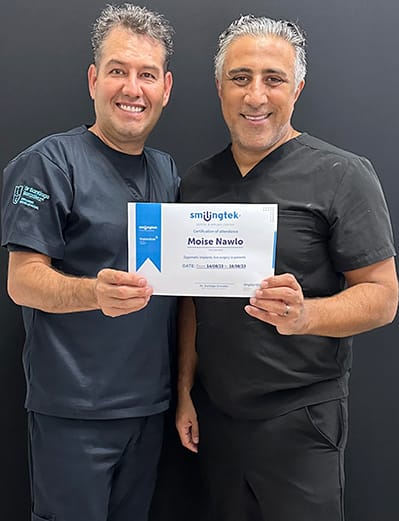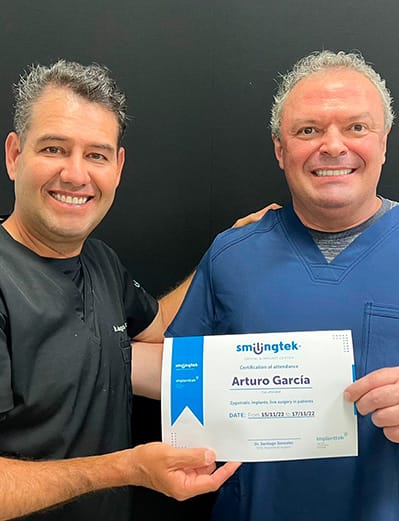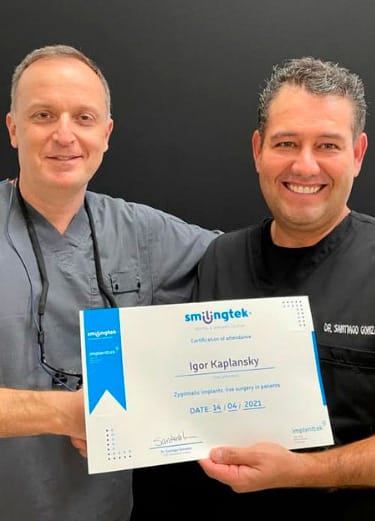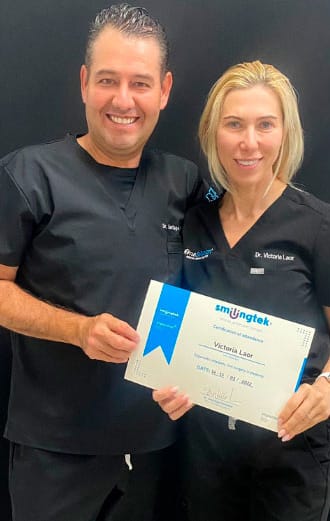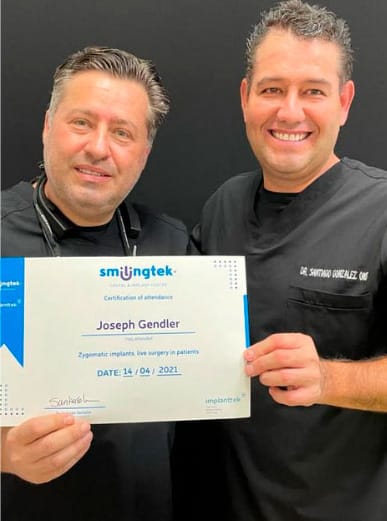 More than 40% of the population over 60 years of age do not have teeth. Edentulism is a very serious and embarrassing disease for those who experience it. Prolonged use of dental prostheses and periodontal disease result in severe atrophies which are difficult to handle with classical regeneration techniques. Even despite performing advanced reconstruction techniques, implant placement can be difficult and require the use of advanced surgical alternatives, such as tilted and zygomatic implants.
Zygomatic courses - Zygomatic training
The main objective of this course, rather than teaching a surgical technique, is to capture the integral concept of the management of severe atrophies through the different techniques available in the market with an emphasis on zygomatic implants. This will be the mainstay of this program. The master training will be a shoulder-to-shoulder course of 2 to 3 days depending on the participants, maximum 3 doctors per course, in which the available techniques and their proper use will first be discussed. Our IMPLANTTEK® technique will be explained and then immersed in the world of zygomatic implants our way; fast, minimally invasive without the need for general anesthesia and prosthetically guided, all cases leave our course with a temporary prosthesis converted in our facilities the same day of surgery.
Zygomatic courses - Zygomatic training

It is necessary for participants to have experience in surgical techniques for dental implants, and to have a clear concept of zygomatic implants and knowledge of the anatomy of the superior maxillary and maxillary / malar area.
Zygomatic courses - Zygomatic training

AGENDA
---
Live these
three wonderful

days with us!
Zygomatic courses - Zygomatic training
Day 1
Short conference in which we will see surgical and prosthetic aspects of patients with severe atrophies of the jaws, surgical techniques, introduction to our IMPLANTTEK® technique, zygomatic implants technique, complications and contraindications. (2 hours).

Live Surgery - 2 live surgery patients performed by the participants with the advice of our experts 2 zygomatic or quad zygoma, depending on the needs of the patients or the training needs of the attendees.
Day 2
Live Surgery - 2 to 4 patients according to the number of participants.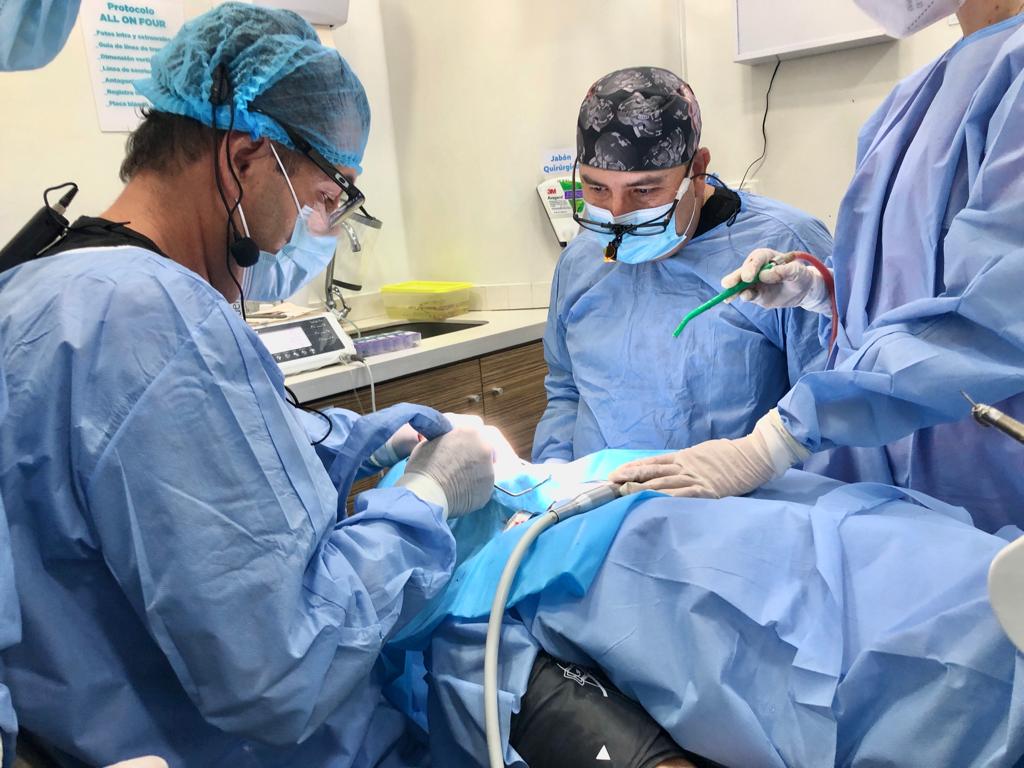 Zygomatic courses
Zygomatic training
Day 3
Live Surgery - 2 to 4 patients according to the number of participants, only done if the quota is greater than 2 participants.

All surgeries are carried out with prior planning by the course attendees and teachers. Surgeries are performed under intravenous sedation and the assistance of an anesthesiologist. All participants must follow the instructions of the teachers, as we must try to avoid complications to the maximum, since the patients are in our hands and they are our responsibility.
SPEAKERS
---
Experience and knowledge
from the best
Dr. Santiago Gonzalez DDS / OMS:
---
Dr. Gonzalez attended Autonoma University School of Dentistry in Manizales and completed his Oral and Maxillofacial Surgery Residency at CES University in Medellin Colombia in 1995.

Following his surgical training, he attended Baylor College of Dentistry in Dallas Texas, University of Chile, NYU College of Dentistry and MALO clinics to complete his studies in oral implantology. In 1996 he established his clinic in Manizales, Colombia, with an emphasis in oral implantology and maxillofacial surgery. He is on staff at the Autonoma University as a clinical professor in implantology. Dr. Gonzalez introduced new surgical techniques there, called IMPLANTTEK® and proudly specializes in severe atrophic cases, complex cases of All-on-4 ® - Treatment Concept with the zygomatic implant technique and repair of failing implants and complications. He lectures on the topics of immediate loading, and zygomatic implants.
Zygomatic courses - Zygomatic training
OUR FEE
---
Our fees are calculated based on per patient
cost.
That includes the surgical procedure performed by the doctor who is attending the training, and guided by Dr. Santiago Gonzalez and his staff, IV sedation provided by an anesthesiologist, the implants that are being placed, and the provisional restoration.

Each attendee performs at least one quad zygoma case, and 2 or 3 cases of 2 zygomas (one on each side posteriorly) and 2 or 3 conventional anterior implants, with our technique.

Lunch and snacks are also included, as well as one dinner.

Travel (flights) and lodging are NOT included. We do have an agreement with a very good hotel that is located in front of our office, and the cost is around $65 US dollars per night with our special fee: quo.com.co
Zygomatic courses - Zygomatic training
1 attendee, 3 cases =

$ 19.000

1 attendee, 4 cases =

$ 22.000

2/3 attendees, 3 cases each =

$ 17.000

each per attendee
We can customize your course; from all on X and lower cases; fewer cases or groups, etc
OUR FACILITIES:

Smilingtek Implant and Dental Center Manizales, is a dental clinic with 6 dental units. We have a group of experts in maxillofacial surgery, dental implants, oral rehabilita1on, and other special1es with great emphasis on complex cases of oral implantology, immediate loading and management severe atrophy of the jaws.
We have 2 units in the surgical area to perform live surgeries and an in-house laboratory for the conversion of prostheses.
Zygomatic courses - Zygomatic training
LODGING:

Our recommenda1on is to stay at the QUO hotel, which is located right in front of our clinic. We also have a discounted rate agreement with them, making each night including breakfast cost around $75 USD.
This cost is assumed by the par)cipants, the lodging agreement only includes room and breakfast.
More information: quo.com.co
Zygomatic courses - Zygomatic training
THE CITY:
Manizales, also called the city of open doors, is a small city in the state of Caldas, located in the central mountain range of Colombia, 3 hours by car (25 minutes by plane) from the city of Medellin and 5 hours by car ( 30 minutes by plane) from the city of Bogota, we have our own airport 15 minutes from the hotel, it has an alternate airport in the city of Pereira 1.5 hours from the hotel.
Manizales is one of the most important ci1es of the coffee region, where of course you will enjoy the best coffee in the world; very close to it are the mountains of coffee cul1va1on, factories and coffee roasters. It is a city, but very close to natural resources such as Nevado del Ruiz, thermal waters, ecoparks, it is highly sought aner for bird watching and longed for by its visitors for its mild climate almost all year round.
Zygomatic courses - Zygomatic training